CompanyCam: Supercharge Growth by Streamlining Integrations and Brand Presence
"Agave allowed us to quickly scale up the number of integrations that we provide to our customers without the added support or maintenance costs — really let us focus on building other features for our customers."

— Corey Collins, Senior Product Manager at CompanyCam
Top 3 Reasons to Recommend Agave:
Speeds up your company's growth by enabling integrations
Decreases your maintenance cost
The branded app feature is a game changer for you to to keep your brand presence in the marketplaces
---
The Need for Integrations
Thousands of contractors use CompanyCam to track progress on job sites using photos. CompanyCam's users wanted to send photos to their project management and customer relationship management (CRM) tools seamlessly, to document progress and keep their office staff informed.
The Challenge with Integrations
To support their users' needs, CompanyCam has built dozens of integrations in-house. Even with a capable team of engineers, they found building and maintaining integrations in-house lacking - it was time consuming, costly, and jerked their focus away from other customer-facing features sitting in their backlog.
That's what led CompanyCam to use Agave — they were seeking a way to connect different systems quickly, in a scalable and resilient manner, without needing to deeply understand each system's nuances (auth, field names, API docs, etc.).
The Solution by Agave
1. Unified Integration for All Systems Supporting Files and Photos
Agave unifies the data objects CompanyCam cares most about — photos and files, and makes it trivial to launch integrations with all the systems we support. CompanyCam has gone live with 4 systems powered by Agave (Procore, Autodesk Build, BIM 360, and HubSpot) with the 5th launching soon.
With Agave, CompanyCam only needs to understand their customers' uses cases and set integration priorities — the rest of the work is done by Agave.
2. Flexible Mapping Allowing Best Experience for Each System
While Agave unifies integrations, we never remove your ability to customize the user experience for each system.
For example, what consists of a CompanyCam "Project" is different in different systems — for HubSpot, some CompanyCam customers want to treat each "Deal" as a "Project". Others want to treat each "Contact" as a "Project". Agave supports both and allows CompanyCam to implement a dropdown for their users to pick which HubSpot object they want.
Even better, Agave's webhooks enable CompanyCam to create projects automatically whenever a new deal or contact is created in HubSpot.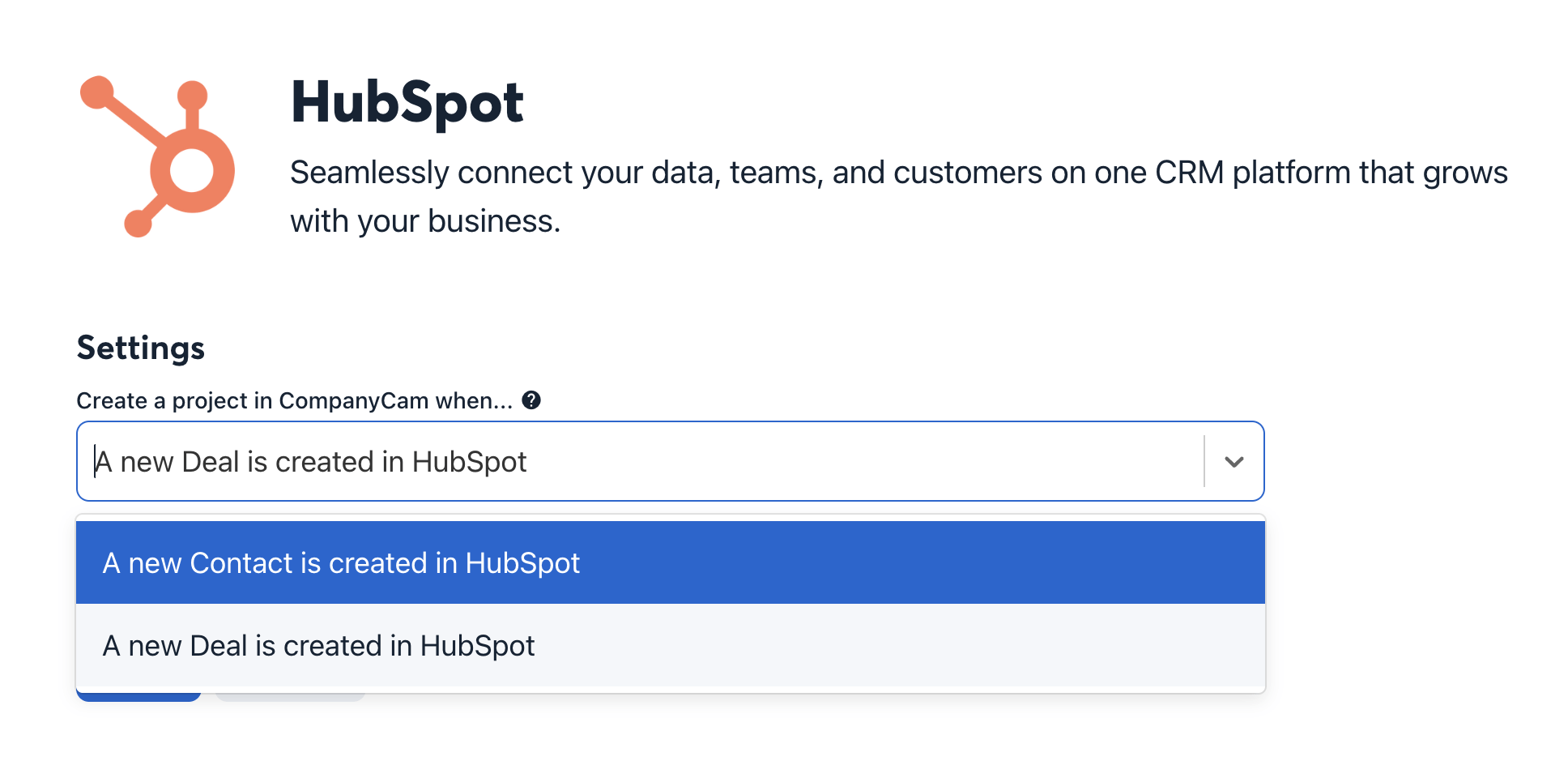 3. Launch to All Marketplaces
Agave not only supports fast and easy integrations, we can do it in a completely white-labeled way. With our new branded apps, we streamline the process of launching to each system's app marketplace.
CompanyCam still owns all the branding and marketing content, but Agave handles the communication with Procore and HubSpot, with no code changes on CompanyCam's end.
"The branded app product is a game changer. It allowed us to keep our brand presence on our partners' marketplaces, which is incredibly important."

— Corey Collins, Senior Product Manager at CompanyCam
4. Smooth Communication
Throughout the process, CompanyCam praised the clarity of our documentation and responsiveness of our communication. Corey, a product manager, used our APIs in Postman, understood the high-level workings of each system, and provided feedback for us to act on.
"The team is great, excellent communicators. I don't think I've seen a team that works harder."

— Corey Collins, Senior Product Manager at CompanyCam
Moving Forward
CompanyCam started using Agave for one project management system. Today, they trust Agave to integrate with multiple project management and CRM systems as well.
We'd love to do the same for you — help you launch integrations quickly, establish a footprint in partner marketplaces faster, and accelerate your company's growth. Sign up to get access today!